Pruneaux + Armagnac = Magic Gascony
Like a magical breath of fresh air, this sweet finish—a perfect Pruneaux and Armagnac Soufflé— transformed our Sunday lunch into a classic French cliché. The hours passed at the table with good companionable friends began with aperitifs (Pousse Rapiere for all!) rolled into remarkable local wines, amuse bouches, fanciful starters, and precisely prepared main courses followed multiple desserts. It truly was Classic Gascony!
I began thinking about why this photograph, admittedly not the best I've ever taken, whetted so many people's appetites? Was it a nostalgic wave for the 80's soufflés I remember? Maybe the darling Limoges porcelain and paper doily presentation? The dollop of creamy golden ice cream settling into the hot puff of edible air?
No, I believe it was the magic combination of two words that push people over the edge. Pruneaux. And. Armagnac.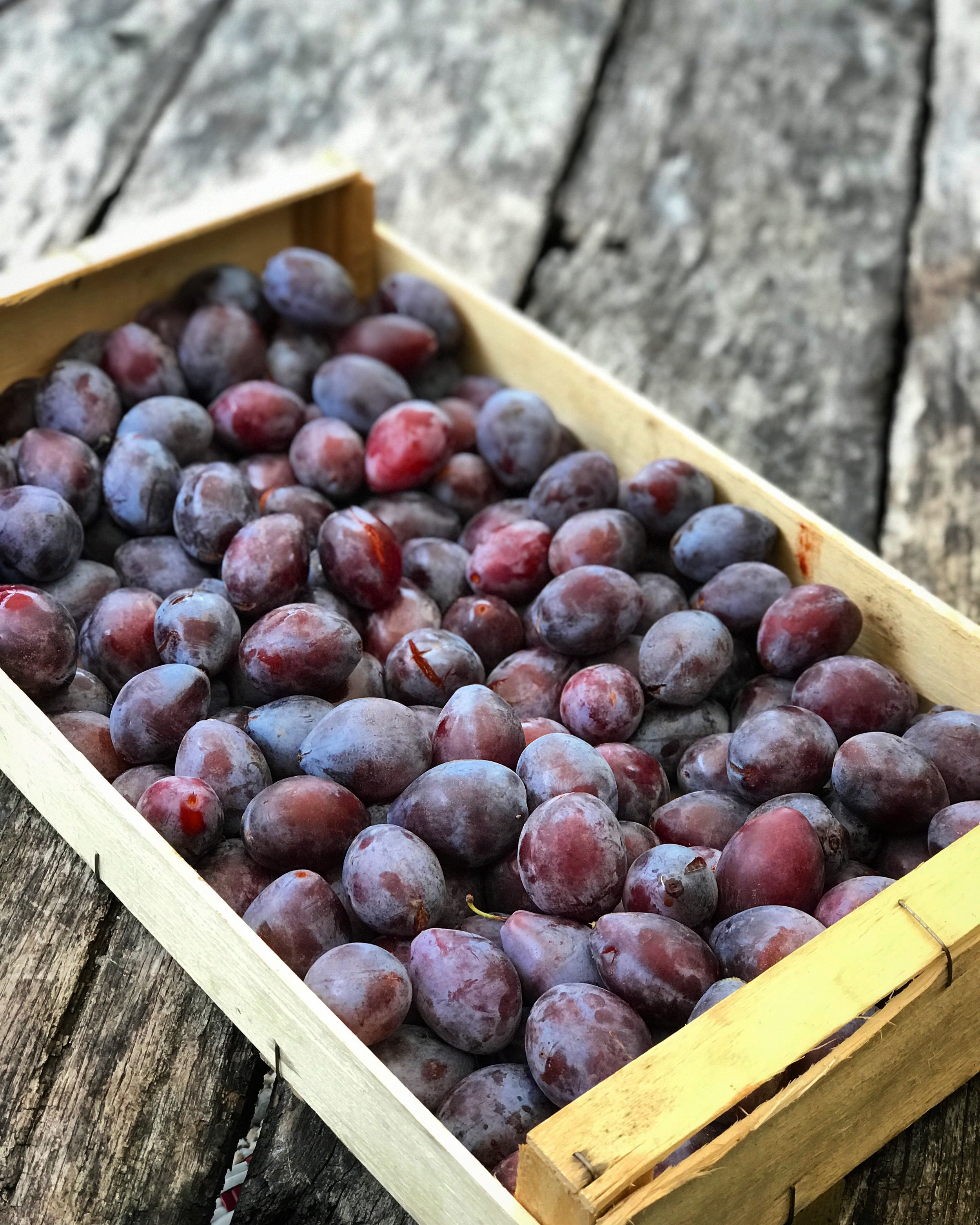 The prunes d'ente (grafted plumes) date to the Crusaders who returned with them from Syria to be planted in the monasteries of the Lot Valley. Once cooked and dried they are transformed into pruneaux or prunes. Not only a delicious dried fruit, they are used in regional cooking and often paired with meats, game, poultry and used in sweets.
I remember when a sage distiller once told me "Armagnac loves silence." I think of that invisible ingredient each time open a vintage bottle that someone has carefully kept for 40 years or more in the silent chais of Gascony. I think of that when I add a measure of the distilled wine to my recipes. Like a secret ingredient, too, Armagnac adds the depth of candied fruit and floral perfume, cacao and vanilla aromes, pear, tobacco leaf, and prunes. And that is why the Gascon marriage of prunes and Armagnac stands the test of time. Shhh. Remember, Armagnac likes it quiet.
I keep thinking about how French cooking differs from other cuisines. Not better. Different. I have learned this preparing many hundreds of meals at Camont. The two elements that define French cuisine, especially Gascony cooking, are restraint and celebration. Cooking with armagnac begs for restraint whereas I add the golden fleshed sweet prunes with abandon and celebrate the simple fruit. These two ingredients as well as the approach are a good match and compliment so many dishes- Lapin aux Pruneaux is gently flamed with a Hors d'Age blend, a splash of fruity Colombard Brut livens the plums for that special soufflé, and a tulip glass of vintage 1970's Armagnac warms in your hand over a long conversation after dinner. Interested in learning to cook with Armagnac and Prunes? Sign up for a week of Classic Gascony Cooking Classes in 2019. Bookings now open here.
Hungry for French Prunes? Try these.